Chuck Norris Approved
Chuck Norris Approved
It was surprising to me that GIFs were created over 30 years ago according to Kate M Miltner and Tim Highfield in their article, "Never Gonna GIF You Up: Analyzing the Cultural Significance of the Animated GIF." GIFs seem like they would be something that would be newer in the internet world. I have been an active user of the internet for quite a few years now and it seems even over those few years that GIFs really have started gaining momentum in our culture today only recently. GIFs are something that I know have always been there, but that I've never thought about the more significant or deeper meaning behind them.
They say in their article that GIFs demonstrate not only a "performance of effect," but also a "demonstration of cultural knowledge" as well. I have enjoyed reading about their analysis of these two groups. We as humans read a lot about the meaning of something they say based upon the other individual's tone of voice or body language. In my own experience with texting or reading, it's hard to understanding the tone of voice or the message the speaker wishes to convey when those other social clues aren't there to assist them. So using GIFs can help fill in clues into the meaning that the speaker is intending. I have thought about how many different GIFs could only be understood by those who are in a similar culture, such as the Western, where we have similar references and events happening in the news and around us to give many of us a common understanding or point of reference in some areas.  I mean, no thumbs up is better than from Chuck Norris…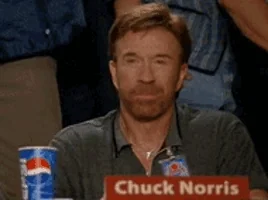 From giphy.com
It's fun to know that even in the world of using GIFs, we can relate to individuals who have a similar "cultural knowledge." Also, spreading these GIFs will expand the cultural knowledge of the Western Hemisphere to the rest of the world.
Kate M. Miltner and Tim Highfield. "Never Gonna GIF You Up." Accessed online 10 November 2017.